Hey, it's Josip 👋
I hope you survived the No-Sugar week.
For me - it was freaking hard! 😫
The first day I was miserable all day and finally had small chocolate after lunch. Next day I managed to stay strong and continued without sugar for 4 full days!
What I've learnt?
It an extreme measure, and I don't think it's necessary to completely get rid of every sugar from your diet. However, what this experiment thought me is to be more cautious about sugars and what I eat in general.
I completely stopped using sugar with my coffee and I actually enjoy coffee much more now. ☕
Will I continue with the idea?
I will continue to avoid sugars, however, I will allow myself a treat here and there. I stopped using sugar with the food I consume on a regular basis - such as tea and coffee. This way I already reduced the sugar intake by a significant amount.
- - -
How did it go for you? Reply to this email and let me know!
---
Before we continue I have a small favor to ask. If you enjoy reading this newsletter please consider sharing it as I spend quite a chunk of my free time to put it together.
Thank you! You're awesome! 🙏🙏🙏
- - -
Moving onto this week… 💪
---
🧨 The Idea
// An idea to make your life better, tried and discussed
Track your time.
How do you spend your time? With who? Do you enjoy most of it or would you rather do something else?
I know, I know… I can hear you saying: why the heck would I track every minute of my time, I know where my time goes… where's the spontaneous in that!
BUT, hear me out. ☝️
The biggest fear of doing this is actually discovering how much time you waste on junk stuff such as scrolling social media or watching Netflix.
Once you realize that, you can decide to use your time for something better, more productive and more enjoyable.
Time is the only thing you can't buy more of and we all have the same 24 h in a day. So I'll skip the cliche quotes about time and let's get onto it.
- - -
Why?
In case you're no convinced yet, here's a list of the obvious:
to improve productivity — if you identify the factors that "eat" your minutes, you can get rid of them by performing only really important tasks.

to allocate hours for self-development — if all the main activities fit into the 8 hours of working time, you can use the rest of the day to yourself and your hobby.

to become more organized and disciplined.

to get a good motivation — the very understanding of tracking every minute of your life and work, makes you feel better about performing your duties.

to prevent time theft — frequent coffee breaks, distractions on phone calls, scrolling social media and so on.

achieving your goals — every minute will be spent usefully, which means that the result will be achieved faster.

improvement of emotional state — you will get rid of chronic fatigue, you could plan not only the work but also the rest.

there is a clear growth — you always have a plan of action.

- - -
How to start?
The hardest part will actually be to remember to log all of your activities.
You can use a paper and pen or a time tracking app. I prefer the apps as they give you cool reports and visuals and it's easier to remember because you'll always have your phone with you.
🕑 My 1st choice: Toggl
It's meant for businesses but you can also use it for personal time tracking.
Other good options:
RescueTime - Free plan: Yes. Paid plan: From $6/month (14-day free trial)

Timecamp - Free

Forest - iOS ($2), Android (free), Chrome Extension

- - -
Do you already track your time? How it's going for you?
Reply to this email and let me know 🙏
---
🛠 Tools
// Tools to try
One of my faves. 🙌
It allows you to organize and sort tasks, set due dates and reminders, and even track your progress and collaborate on projects with others. Other useful features include location-based reminders as well as options to sort tasks according to priority and tags!
Cost: Free
- - -
If you, like me, struggle with focus and you know how easy it is to get distracted by social media and other websites — is exactly where this useful app comes in.
You can block distracting and time-wasting websites and apps for a set time period. Even block your entire access to the Internet so you can keep your focus entirely in check.
Cost: Free
---
🔊 TED talk of the week
// Weekly recommendation
Continuing on the topic of time. What machines can teach us about time-management?
Human beings and computers alike share the challenge of how to get as much done as possible in a limited time.
Over the last fifty or so years, computer scientists have learned a lot of good strategies for managing time effectively — and they have a lot of experience with what can go wrong.
Watch how we can use some of these insights to help make the most of our own lives.
---
📚 Book of the week
// Weekly recommendation
Have you ever wonder how one species took over the entire planet and it's dominating over all other species? When exactly, and why this happened? And how long we will last before destroying ourselves?
Sapiens by Yuval Noah Harari is giving us an incredible insight on how me came to become the rules of the world and is this going to cost us our own survival?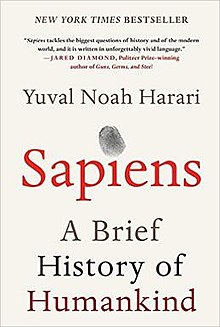 -> Get the book
---
🖱️ Click-worthy
// Tidbits from around the web
➣ How to (Actually) Change Someone's Mind
➣ How To Break Bad Habits in 3 Steps, According To Science
➣ How to track the time spent on your phone using Screen Time
---
That's it for this week… 😭
I hope you find some useful stuff here and don't forget to record and track your time because in the next week's issue we'll see what can you do with this data, and how to use it to make smart decisions.
Stay safe!
- Josip
- - -
What do you think about the newsletter? (just click on the link to share feedback)
Or reply to this email with any comments or suggestions 🙏
➣ I loved it.
➣ So-so.